Asset Allocation
Maximizing our clients' returns through an appropriate combination of investments is our goal. Factors that are specific to each client are considered when establishing an individual investment plan:
Requirement for income
Liquidity
Return goals
Risk tolerance
Investment time horizon
Tactical Asset Allocation
From time to time, CoreFirst will make necessary changes within asset allocation ranges due to market changes. This gives our customers the opportunity to benefit as market conditions change. Items that may influence a change include:
Interest rate trends
Equity market deviations
Inflation/deflation
Geo-political events
Federal Reserve policy, and others
Questions?

Call 785.267.8402 or 1.800.280.0123

Stop by any branch location
Email a Trust Officer

Live Chat With Us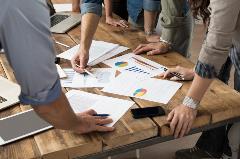 ---
Investment, Insurance and Advisory products:

Are Not FDIC Insured

Are Not Bank Guaranteed

May Lose Value

Are Not Deposits

Are Not Insured by Any Federal Government Agency

Are Not a Condition to Any Banking Service or Activity